Hello, dear conscious parent 💟!
I am inspired and humbled today by an email that I received from a mom who is reading my book, Conscious Parenting of Your Toddler.
She asked me if I have a workbook that goes along with the book itself. I do not, but her question fills my heart ❤ because it is yet another piece of evidence that parents have a real need (and commitment) for this work. To honor this mom's request in a small way, I am proposing to all of you this exercise – as a practical application of the chapter on TRIGGERS from the book:
EXERCISE: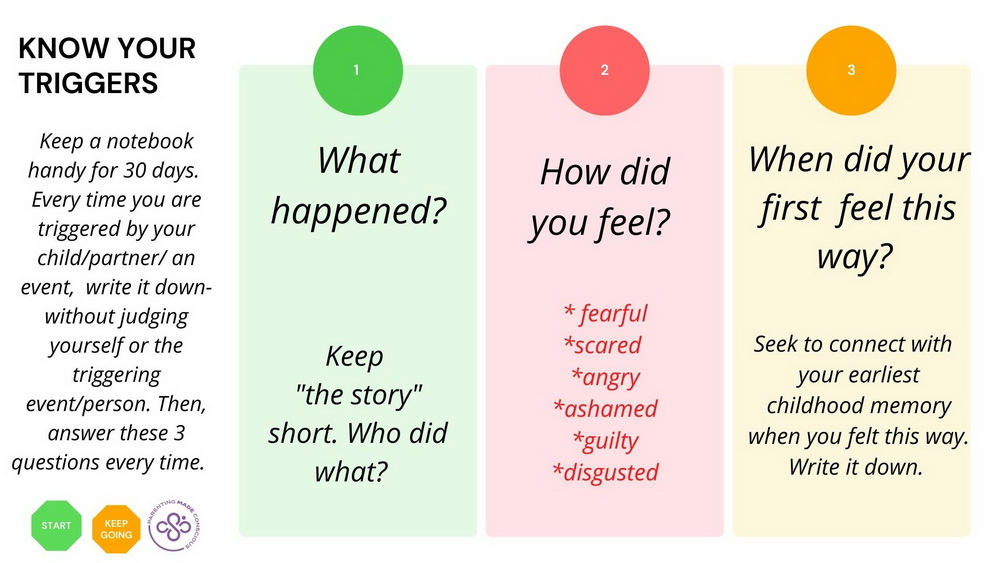 KNOWING YOUR TRIGGERS is the fundamental work in any attempt to heal, grow, and evolve as a human being. The entire field of self-help & self-awareness exists because this is the hardest work anyone can do.
The purpose of this exercise is for you to identify PATTERNS in your behavior, reactivity and self-defensiveness. I highly recommend that you work with an experienced coach or therapist/ mental health counselor if this work brings up overwhelming memories, feelings or thoughts. By the way- this is exactly how my program, The Conscious Parent Accelerator, helps parents. Enjoy the exercise and write to me on how it went!
Speaking of my course, here's what a parent in my Conscious Parent Accelerator Program told me this week: